At Christmas play & make good cheer for Christmas comes but once a year.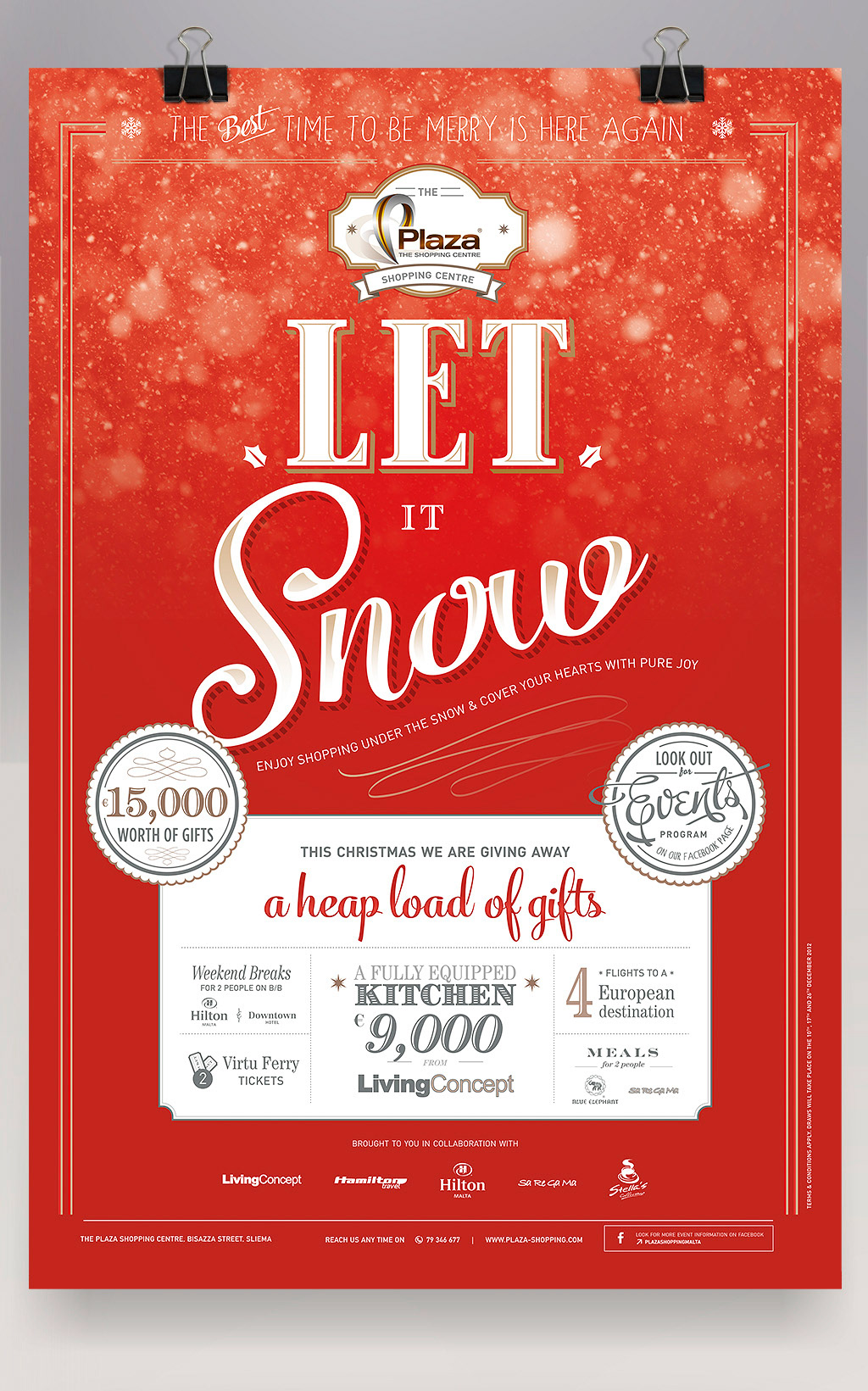 Overview
Plaza Centres p.l.c. is Malta's foremost Shopping and Commercial Centre situated at the heart of Sliema's commercial and shopping district. The Plaza Commercial Centre first opened its doors in December 1993 and has since earned a reputation as a convenient one stop shop, for quality goods and services, its choice of local and international brand names, as a safe and clean environment.
Brief
To direct traffic to The Plaza during Christmas 2012 period, increasing footfall and ultimately sales. 
Challenge
The constant challenge with the Plaza is that there is another shopping Mall in the same locality which is much larger, has a car park and includes outdoor area. We needed to come up with something original and never before done in Malta utilising the limited space available – real life falling snow inside!
Campaign
We purchased a state-of-the-art snow machine, customarily used in film productions, which creates a dry foam providing a self-clearing falling snow, which is biodegradable and non-toxic. The machine was placed on the ceiling of the top floor of the Plaza. At regular intervals during the run up to Christmas, the snow machine was turned on and shoppers were surprised with real life falling snow whilst they shopped. This proved to be extremely popular with both kids and adults. 

To compliment the falling snow feature, we came up with a jam-packed programme with continuous entertainment for all the family to enjoy. Professional singers performed under the falling snow, whilst children were entertained with face painting, balloon artists and other animated characters. 
We organised freebies for the shoppers such as free mince pies, eggnog, mulled wine and the possibility to take pictures with Santa. On top of that, the campaign included over €15,000 worth of prizes including a €9,000 kitchen, flights to European destinations, weekend breaks, and more.

In addition, since Christmas is a time of great solidarity amongst the Maltese, we came up with the idea of having a Christmas tree present on which customers could put up a decorative object for a donation to charity.
The Artwork
The artwork used for this campaign was simple, eye-catching and classic. We wanted the artwork to be vibrant yet simple, in order to immediately drive home the message. A lot of emphasis was placed on typography as opposed to imagery.
Medium
Leading magazines, newspapers, bus shelters and Facebook. Furthermore the snow feature obtained extensive PR coverage on TV stations, magazines and newspapers.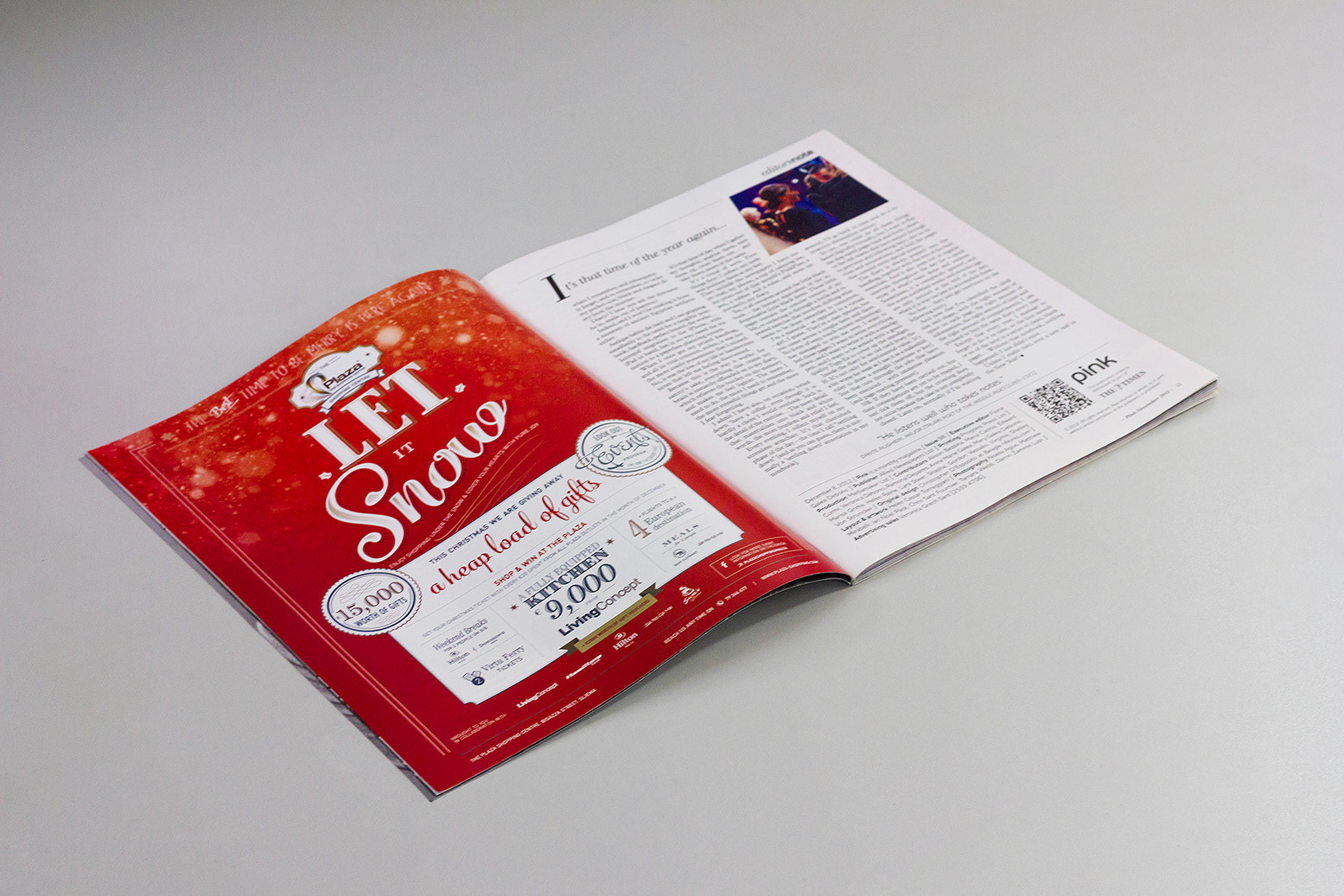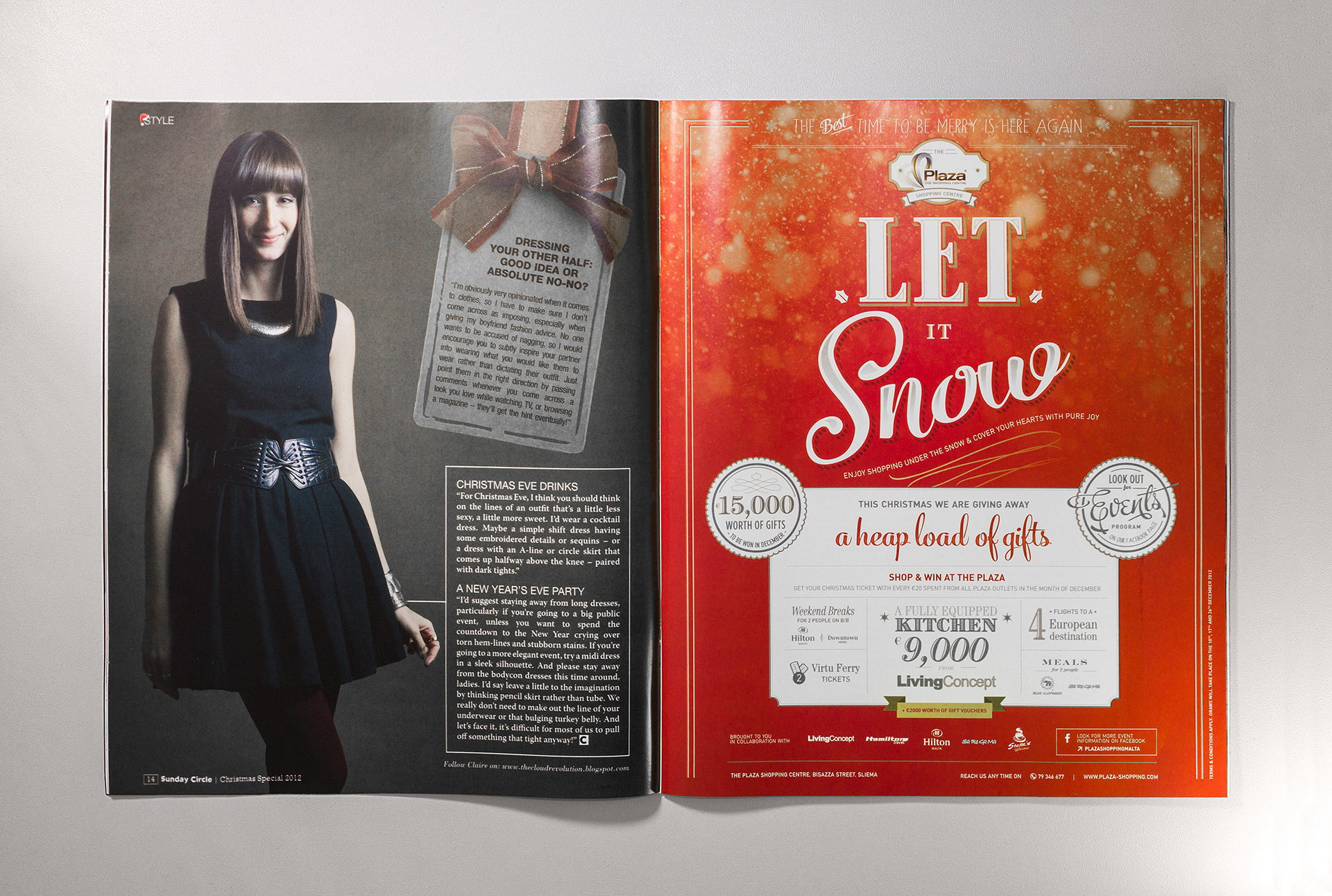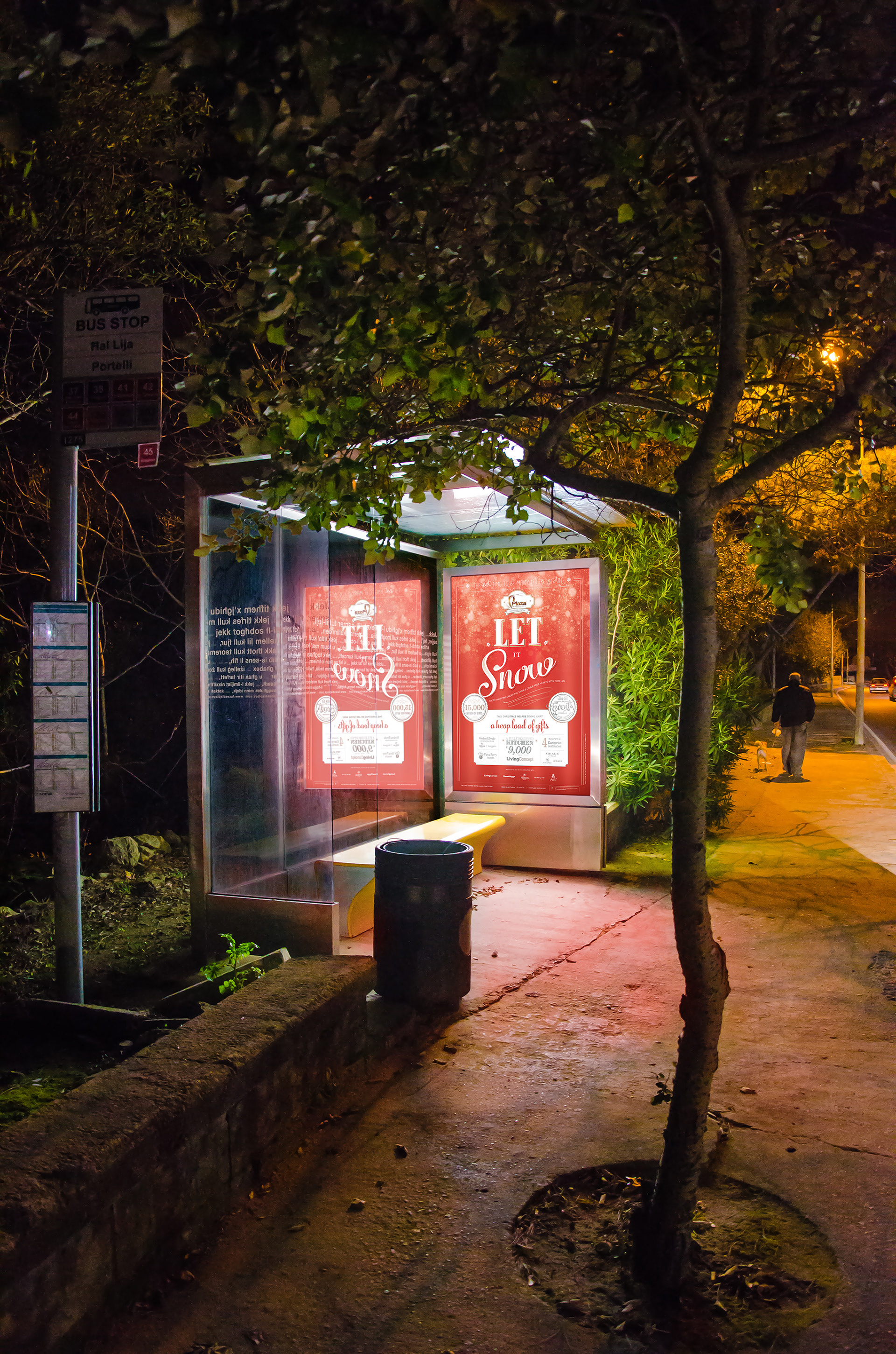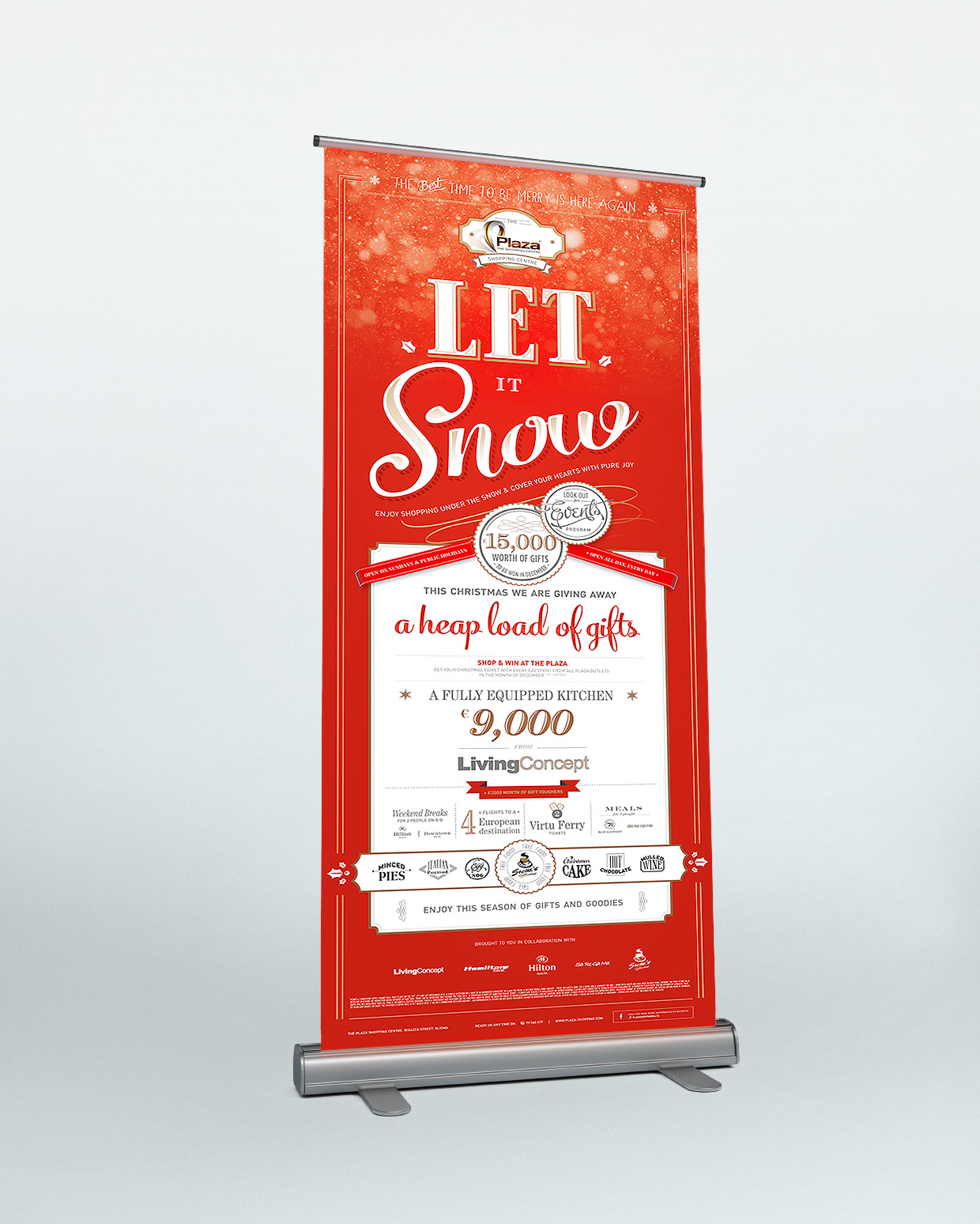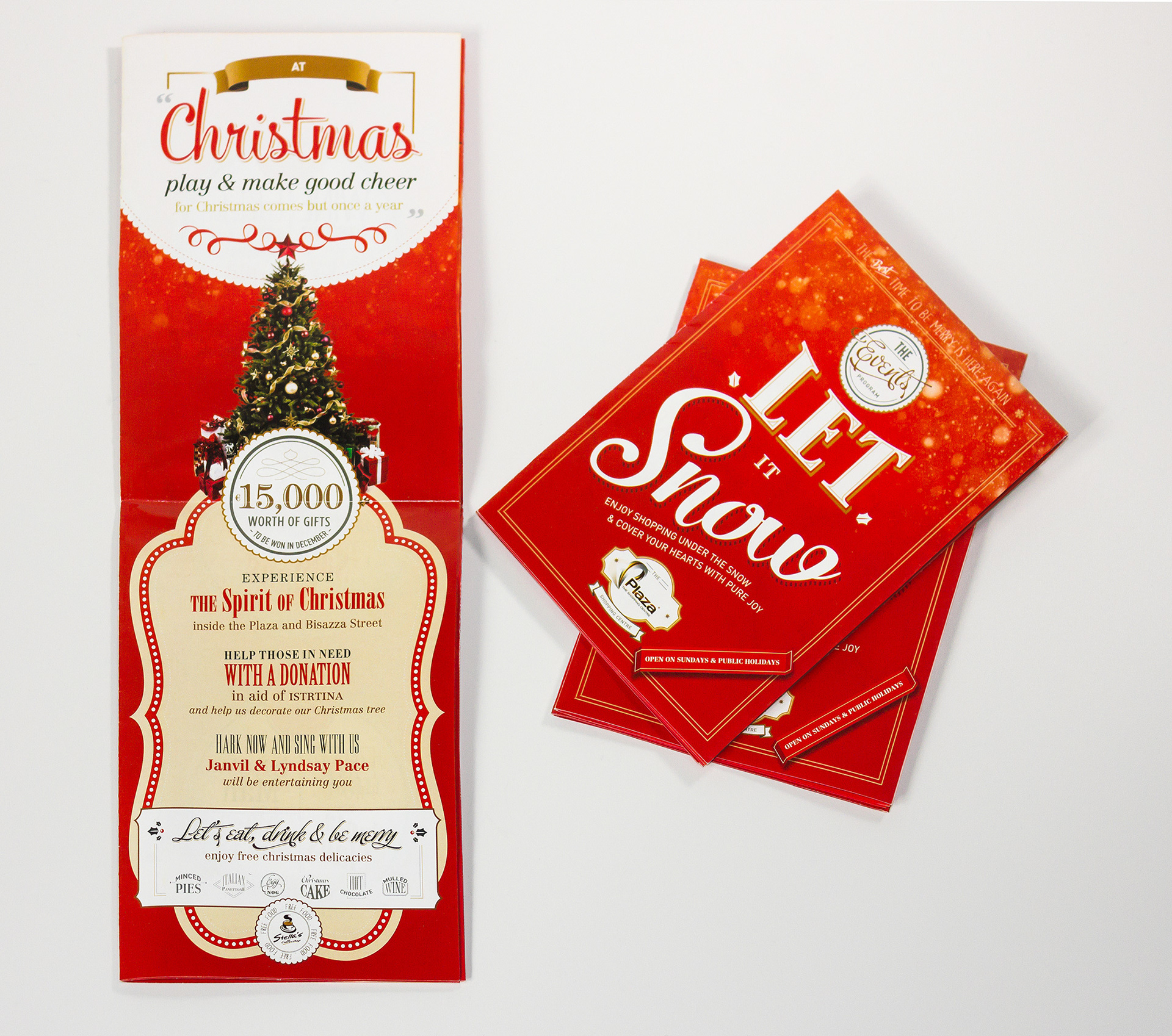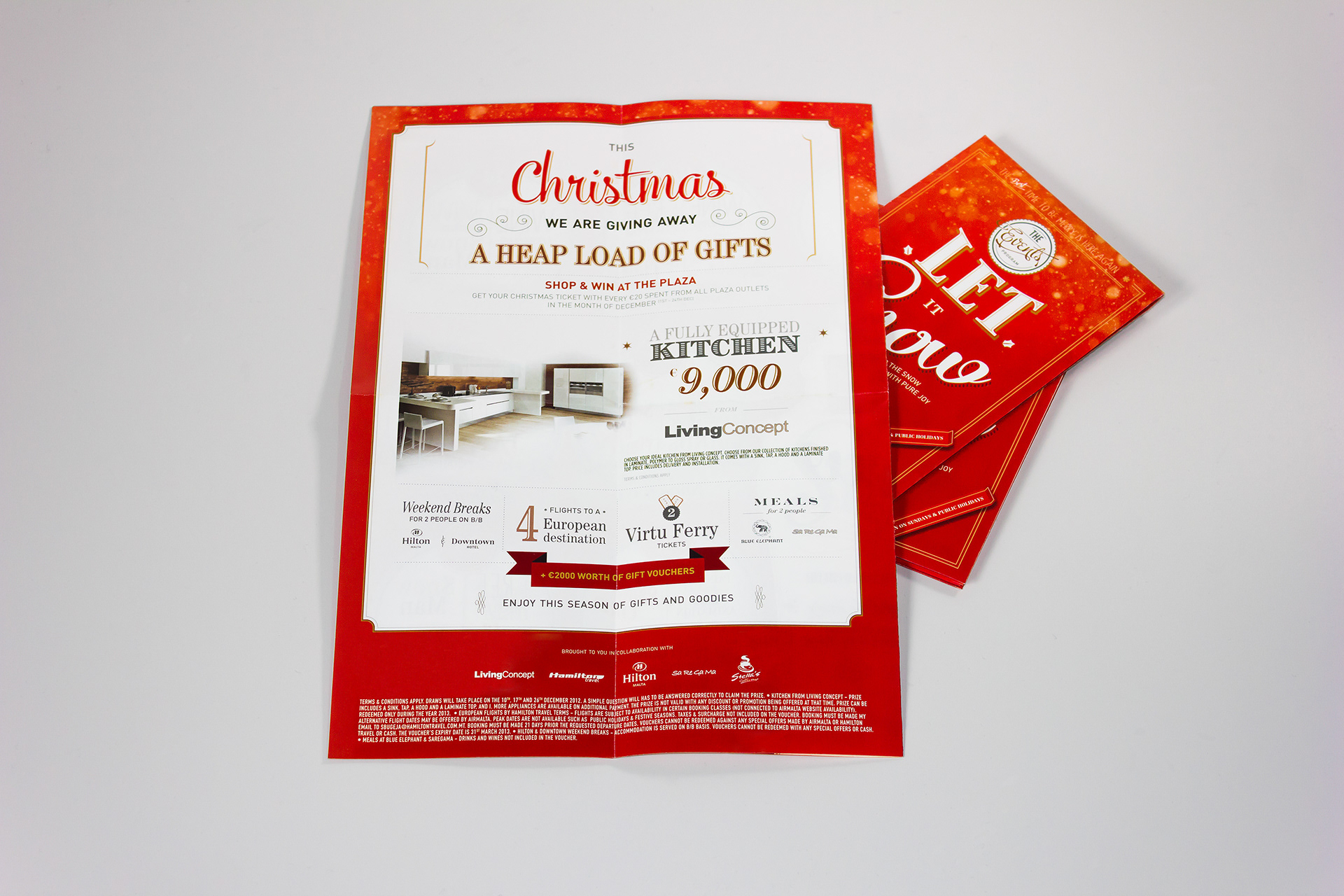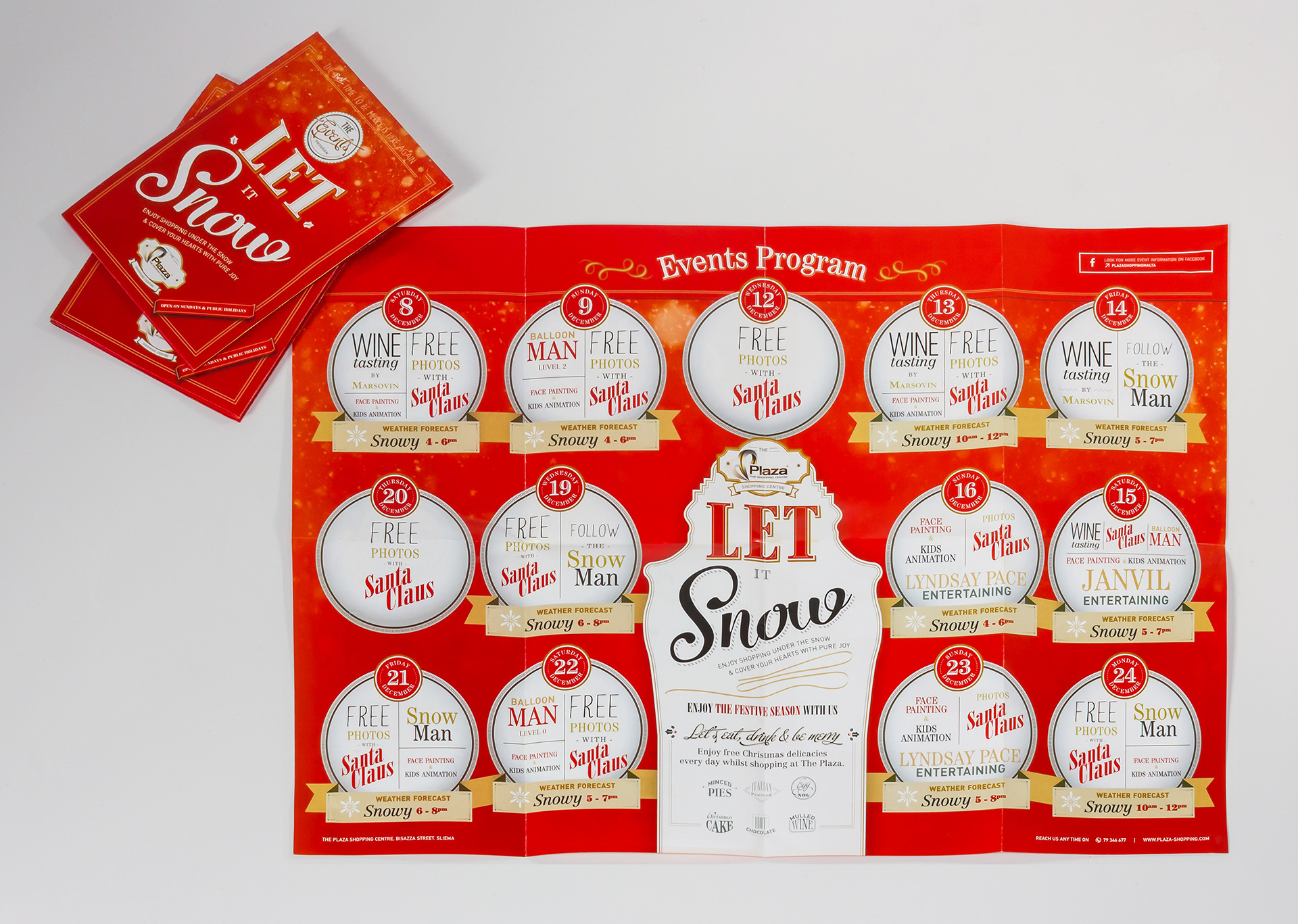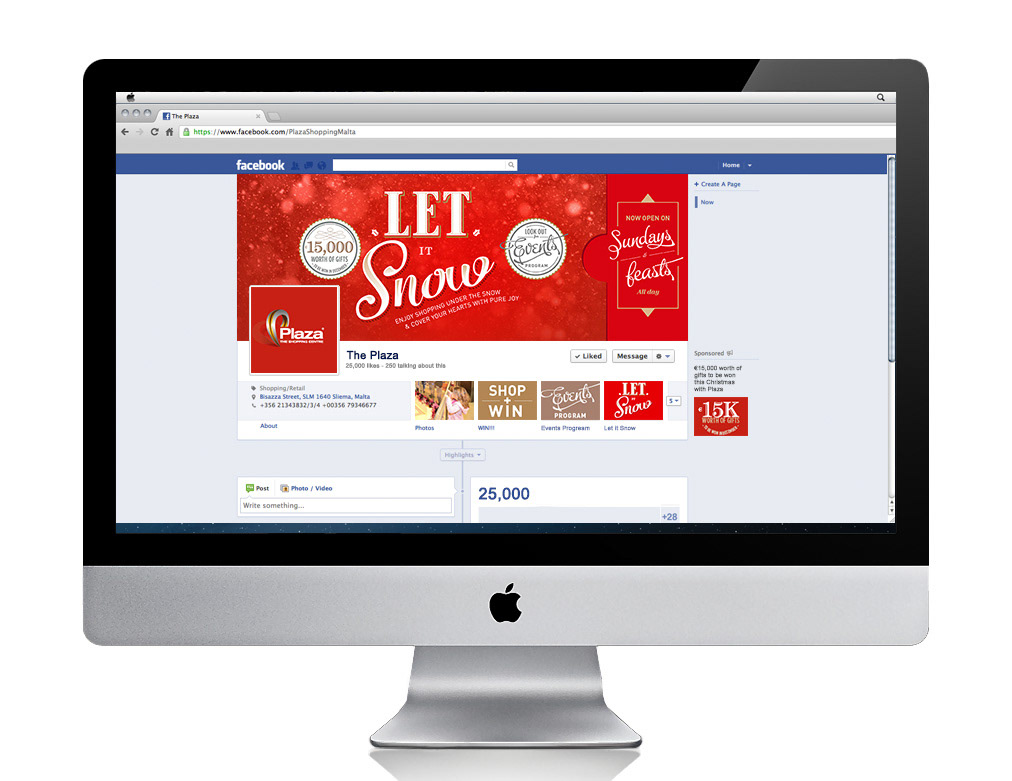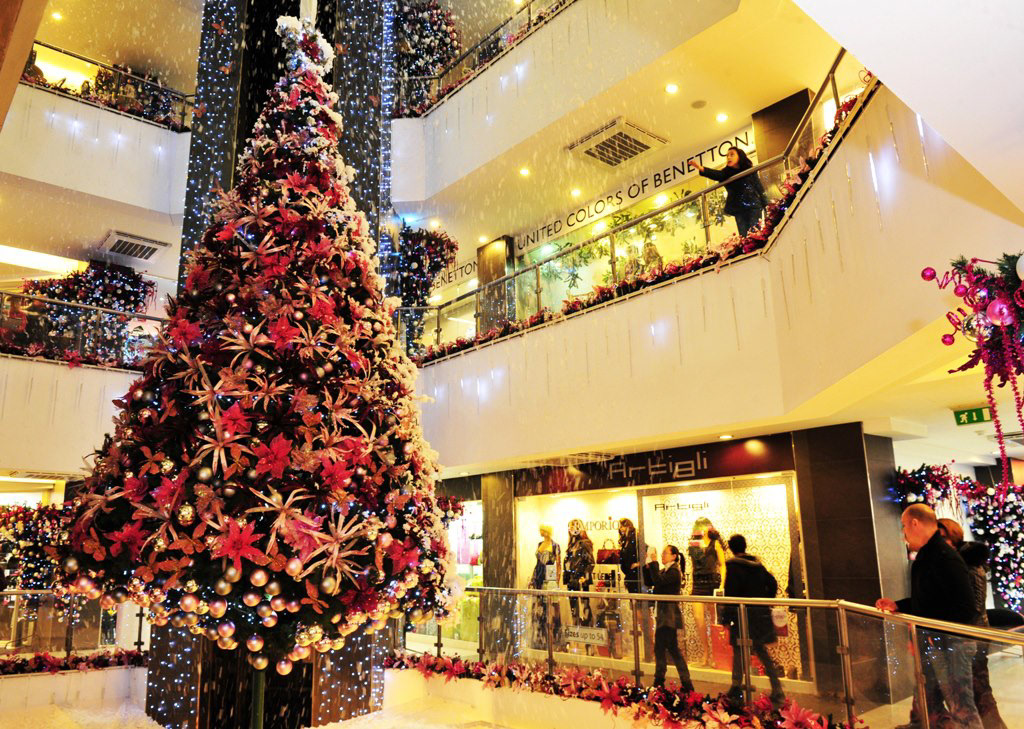 Snow forecast at The Plaza
Customers Christmas shopping at The Plaza Shopping Center in Sliema are in for a surprise on December 8, 2012. For the very first time in Malta, Plaza will be enchanting people with over 2,000 minutes of falling snow until December 24 as part of their Christmas celebrations.
The run-up to Christmas is also packed with entertainment for all the family, including the change to win over €15,000 worth of prizes.
Families are enticed to come and experience a truly white Christmas this year to get into the spirit while shopping. Children will be entertained with Plaza's animators, including face painters and the Balloon Man, and will have the chance to have their photo taken with Plaza's very own Father Christmas. For the adults, Stella's Cafe will be giving out free mulled wine, eggnog and mince pies, while Janvil and Lindsey Pace will be performing Christmas songs under the snow.
This festive season, among the €15,000 worth of prizes is a €9,000 kitchen from Living Concept, flights to European destinations, weekend breaks, Virtu Ferry tickets, dinners at selected restaurants at the Hilton and thousands of euros worth of shopping vouchers.
In addition, since Christmas is a time of great solidarity, Santa's helpers will be inviting customers to put up a decorative item on The Plaza's Christmas tree. For every decoration, customers may donate any amount to l-Istrina, Malta's largest charity even in aid of the Malta Community Chest Fund.